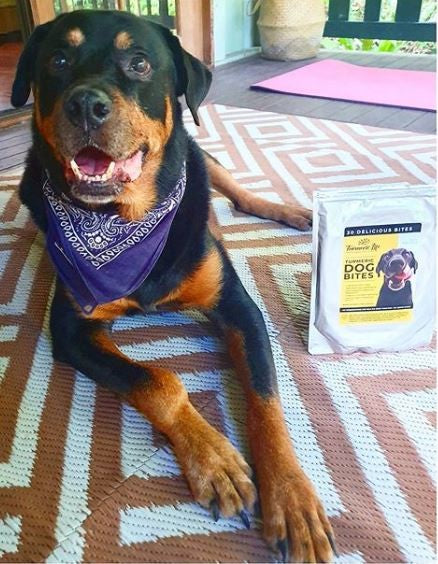 Meet Archibald
He is an 11year old male rottweiler with severe arthritis and issues relating to old age. Archie still thinks he is a puppy however his body does not agree. He recently had surgery to repair his medial meniscus and cruciate ligament, however, he didn't do so well under anaesthesia. It was touch and go for Archie for a while and wasn't looking good.

After his surgery he was put on our Turmeric Life dog bites by his mum who is a vet nurse and we can happily report that Archibald has improved immensely!

He now spends time chasing sticks at the creek and cuddling with his cat best friend.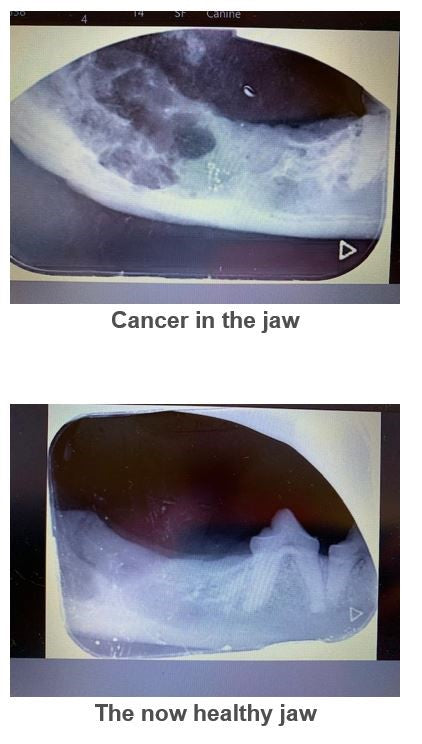 Vets are using Dr Doug's products to heal Cancer in terminal animals, here is a story from Dr Glen Kolenc (BVSc) of Petersham Veterinary Hospital NSW. On 3rd September 2019, I had to remove a growth from a dog's gum (on the lower jaw, quite far back in the mouth). As I removed it, I observed erosion of the jawbone beneath the lump, I knew this meant that the tumour had invaded into the jawbone. Complete removal was impossible. I took an X-ray of the jawbone and you can see dark "bubbles" in the jaw, almost like it's been moth eaten. These dark bubbles are where the tumour was eating the jaw away. A biopsy of the lump showed it to be an aggressive cancer. A veterinary oncologist told me the only hope this dog had was radiation therapy. It was a matter of weeks until the jaw would fracture, the owner declined radiation and said she'll euthanise the dog the moment she was in pain.

I told her about my experiences with turmeric and the amazing results I'd seen with oral cavity malignancies, and she was happy to try and immediately started the dog on Dr Doug's Turmeric Dog Bites. I had the dog in for a check-up today (85 days after surgery). The gum looked totally healthy, no evidence of there ever being a cancer there. A repeat jaw X-ray shows a completely healthy jawbone. Note that in the second image, which was taken today, that the darker, moth eaten appearance has now gone. I am amazed. This dog should have been dead a few weeks after surgery.
Finally eating turmeric!
My sweet little Mi-Ki (Ralphie has to deal with GME (glomerulus meningoencephalitis)) and has a huge regimen of powerful drugs to manage this incurable neurological disease. Some of the drugs have adversely affected his appetite and I could not get him to tolerate the Golden Paste recipe. The Dog Bites were my last ditch effort and he loves them. Thanks so much for this wonderful product. The photo is all of us leaving Cornell University Hospital with Ralphie (their Calendar model - after his lasted round of chemotherapy).

~ Carol.B
Senior Boost
Max is a 15 year old 20 pound poodle mix rescue from Nome, Alaska. He has subluxating patella's which we have managed conservatively with acupuncture, chiropractic and targeted supplements. I recently noticed some stiffness and decided to give Turmeric Dog Bites a try. I started dosing gradually and am up to the dose of 3/4 teaspoon (one of the bites) divided in 2 given morning and evening after meals. It took a couple of weeks but I have definitely noticed less stiffness and a spring in his step. He readily eats them! Highly recommend giving them a try.



Seurat, the Bichon
On Seurat's 11th birthday she underwent surgery to remove a mass in her bowel which was detected from an ultrasound. Unfortunately, the mass was too large and if removed there was a chance an artery could be hit and she would have died on the table. So all the surgeon could do was stitch her back up stating that her prognosis was "fair". A couple of months later I read about turmeric from the Turmeric Life website and joined the Turmeric Users Group. I started Seurat on turmeric and within a few months the awful diarrhea stopped. Before turmeric she bowed down in pain, lost a lot of weight, and was lethargic. That was three years ago and at the end of this month she will be 14. She has no more diarrhea and is very active. I am so thrilled to have the Turmeric Dog Bites because it is much easier to give and she loves it. I also have an 11 year old Bichon who is getting the bites too because of her age. I am including a photo of Seurat and her surgery.
My girl has a possible liver shunt and is managed right now by diet. I was making my own treats using GP for a couple of years now. She doesn't seem to like those treats anymore so I have switched her to Doug's Dog Bites. Thank goodness for these as she swallows them up with out a problem. Thanks again!
~ Laura Margison Gallacher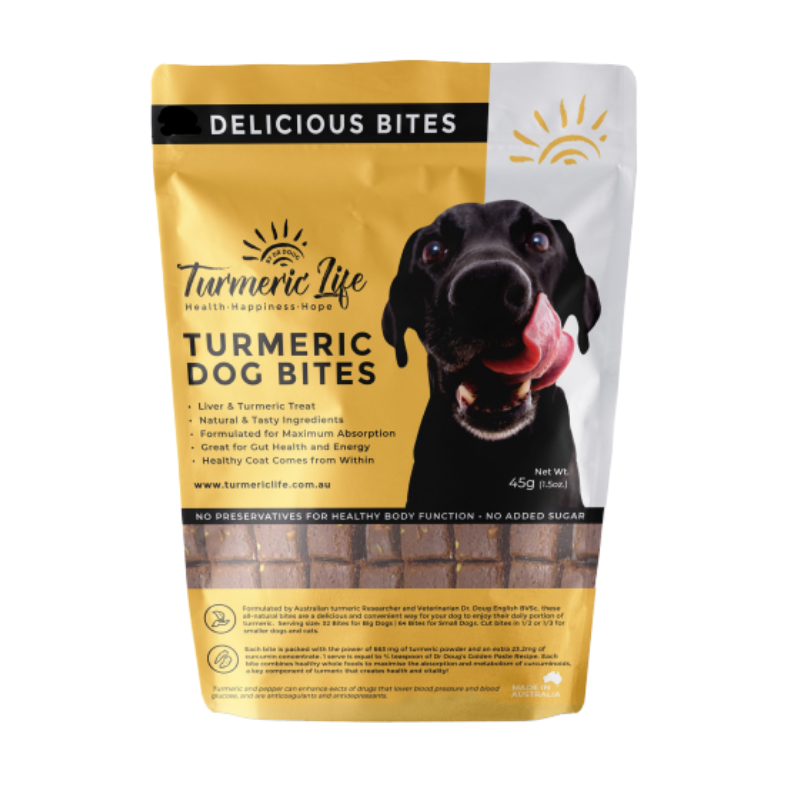 Outstanding
I have a senior 15 year old 20 pound dog who loves the Turmeric Bites. I cut in half and he gets twice a day. He loves them! Very tasty! I've noticed he has decreased inflammation, decreased aches and pains and noticeable improvement in energy and mobility and zoomies. Highly recommend! Excellent customer service too.

Macrina F.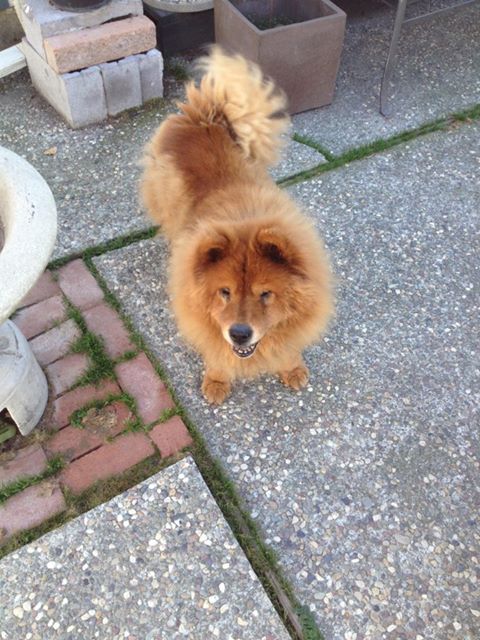 Absolutely love the bites.
My Chow was diagnosed with melanoma of the tongue. They assured us it was not a good prognosis even after taking out most of the growth. Two and a half months later I'm ecstatic to say she is doing very well. No symptoms of regrowth and saved a TON of money and her life by not following up with toxic and expensive western medicine treatments like radiation and chemotherapy. Thank you so much Dr Doug. ❤️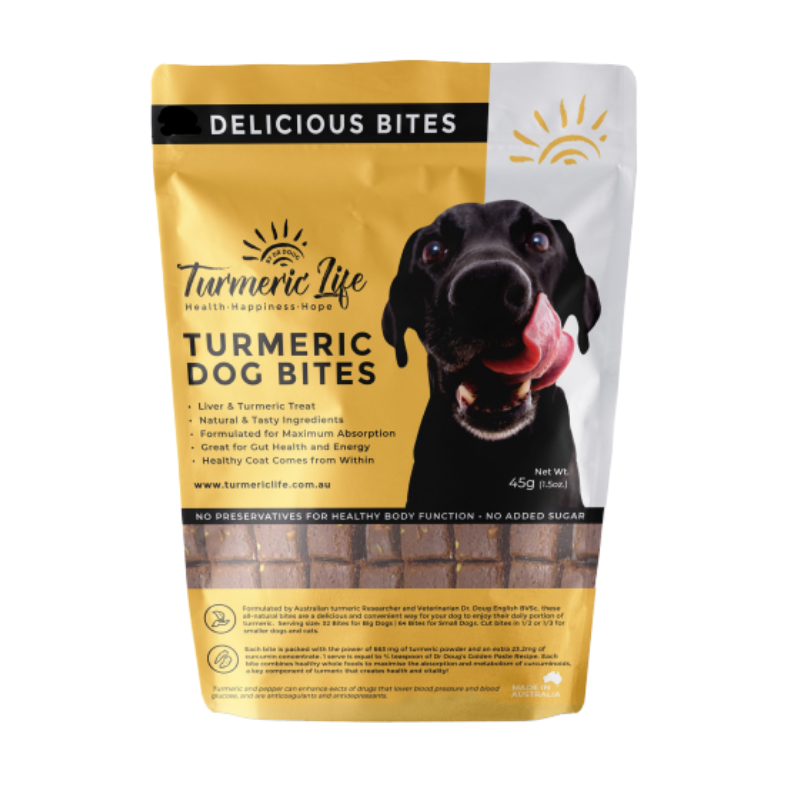 Marvellous for cats
The turmeric bites have done wonders for our cat. Our cat has been diagnosed with arthritis and a prolapse disc in her spine. She was losing the use of her back legs. She had a number of treatments from the vet - steroids gave her the cat flu and she continued to deteriorate. Surgery wasn't an option at 16. Cat sized pieces of Turmeric bites in chicken mince has seen her moving around more and becoming more stable and what's more she loves her chicken balls.
~ Beverly B.
Love these - a bit too much . . .
When I got these I saw them as energy bars. So each day I ate one and felt very good. It was not until I was on my last bar, that I saw the instructions that they needed to be cut into small pieces. Each small cut piece was the amount I was supposed to consume each day.
I was disappointed. I know energy bars are not cheap, but now I know that only a fraction of the bars are to be consumed at a time. But they are very tasty. I don't think I could control my need to eat a whole bar though. So, I likely won't be able to spend that much on a daily bar. Too bad. I really like the Ginger one, especially, but they were all good. 
~ Serena C.
The TU-GO bar that's good to go!
I make the GP, and I use it regularly; however, life throws us some curves sometimes and the GP isn't available. The Tu-Go bar is a quick and easy way to make sure I always have access to the amount of turmeric I want to have in my diet. I always have some cut up in a bag in my car or on me so that I can just pull out a square and eat with my meal or snack. So great for traveling, going out for dinner or for a flavour change from the GP. My dog loves them too, so we enjoy our bites together. Can't wait to get the Dog Bites for him and see how he likes them. Thank you Doug English for your wonderful research and development of these products!
~ DyAnne.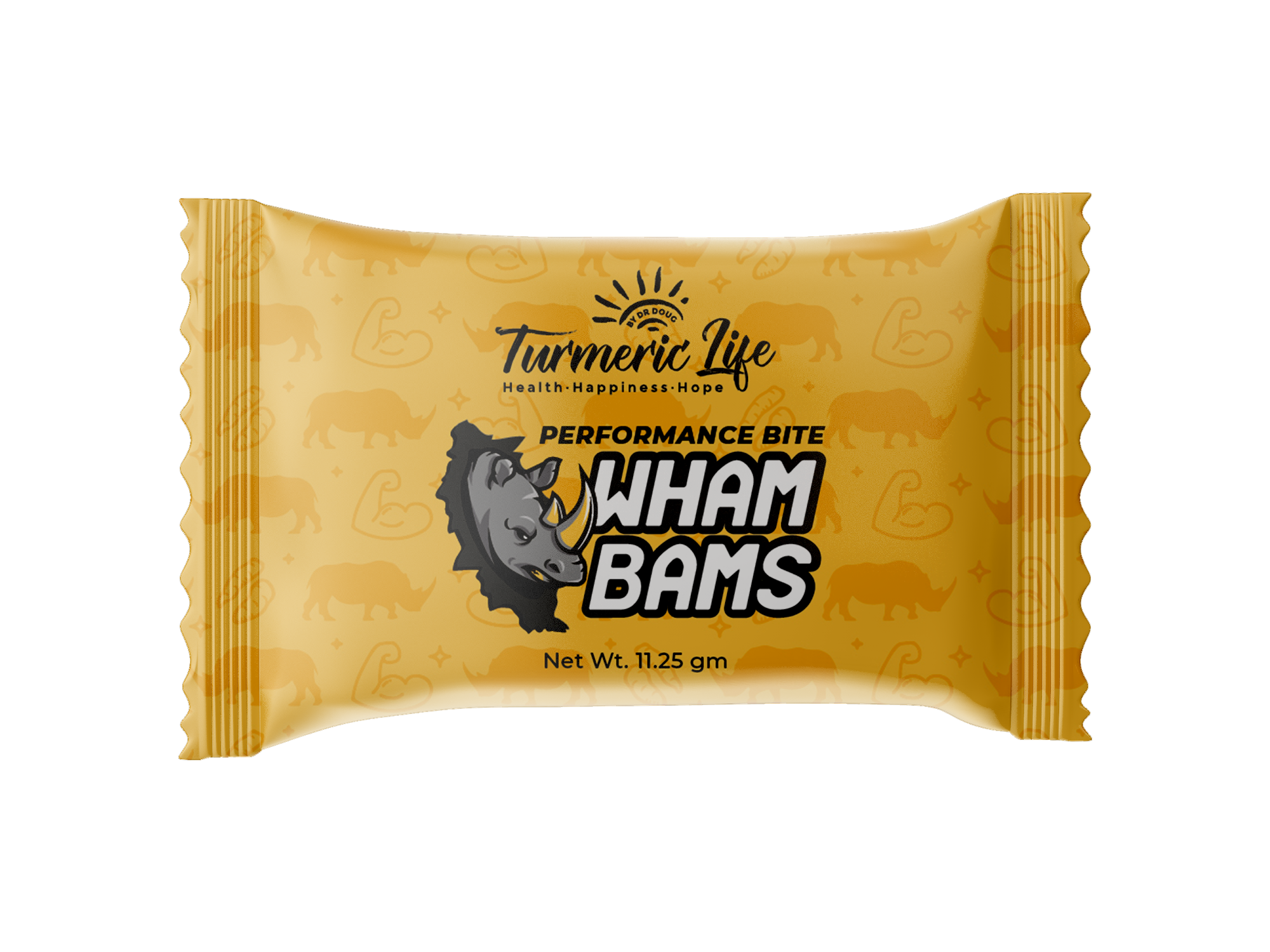 Convenient And Flavoursome
I have a busy lifestyle and was finding I wasn't using Golden Paste consistently. The bars have been a game changer as they are portable and I can have a supply at home, with me on the road when I'm with my horses and also at my different work locations at my hospital. It's a bonus they have many additional ingredients to support the health of the body. Being a bar they have a long shelf life compared with Golden Paste so I don't have to worry about anything going to waste. Very happy and satisfied with the product.
~ Sarah T.
Turmeric Beer Bites
Great taste - the best yet! And so moist. I enjoy mine with a cup of coffee and it's like a healthy treat. I had a sudden flare up of really bad osteoarthritic pain in my knees and after having a 'bite' three times a day I can cut back on Panadol and am not using the prescription pain killer at all. Can walk up and down my two flights of stairs now instead of leaning on the banister and doing baby steps! Very happy.
~ Chantal Y.
Good way to eat your turmeric
A tasty way to get the turmeric that helps reduce my pain (by reducing inflammation). Bars are very convenient for travel, but also great for those who don't have time (or are too slack!) to make their own. Not only is this a food, not a medication which could have nasty side effects be overdosed, but I figure the cost of the bars is offset by the fact that I don't have to take anti inflammatory drugs or major painkillers.
~ Julie P.
Great combination Ginger & Turmeric
I love ginger and I do add ginger when making the golden paste. I carry a ginger bar in my purse, to the office and recently took a bunch on my trip to the UK. The turmeric on the go really works as well the golden paste for my arthritis. The bars kept me walking throughout my trip and I had no need for the ibuprofen that was packed. Thank you for providing another great product!
~ Y.L
Tasty AND extremely beneficial!
I am an absolute convert to the benefits of Golden Paste after trying these super easy TuGo bars. They make consuming my daily serves quick and easy and I see lots of benefits. My favourite flavour is the ginger but don't mind the beer bites either. Since starting to take 2 daily serves in January 2020 I've noticed a significant improvement in my nails. I used to have very brittle and ridgy nails and was constantly breaking one. I also have more energy when I take the serves regularly and only have to avoid taking them in the evening as they make me too wired to sleep (although other family members don't have this experience at all). Will be reordering again soon. Thanks for an amazing product. 
Yasmeen C.